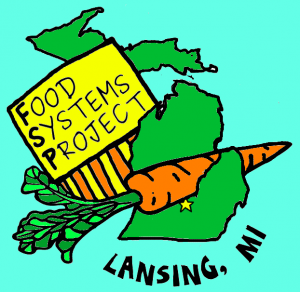 The Food Systems Project works to increase residents' access to healthy, affordable food while educating residents about ways to eat healthy.
Garden-Based Nutrition Education
The Food Systems Project offers a school garden based nutrition education program that partners with four Lansing schools to provide quality, effective nutrition education programming for elementary aged  students (5-12 years old). Our program offers several components: in-school classroom lessons, an after-school garden club, a summer garden camp program, and community-based food sampling. These three programs reach over 1,000 students in grades K-6,  working to promote healthy habits and increase student's consumption of fresh fruits and vegetables!
We partner with four Lansing schools: Riddle Elementary, Willow Elementary, Gier Park School and Sheridan Road School. Each partner school has a garden which is used as an educational tool to teach students about growing, harvesting and preparing healthy, nutritious food! Students are engaged in the school gardens in many ways, participating in every step from choosing what to grow and preparing the soil, to harvesting, cooking, and eating the food. We visit over 40 classrooms for 1 hour visits each month